Çöpler
Çöpler District - Building a Pathway to 300K - 400Kozs of Production for 10+ Years
The Çöpler Mine (80% SSRM owned) is part of the Çöpler District located in east-central Turkey in the Erzincan Province, approximately 1,100 km southeast from Istanbul and 550 km east from Ankara, Turkey's capital city. The Çöpler Mine has been operating since 2010 and is currently processing ore through two producing plants – the oxide and sulfide plants. The oxide ore is processed via heap leach and the sulfide ore is processed using pressure oxidation. The current estimated mine life is over 15 years.
Highlights of the Çöpler Mine include:
Mineral Reserves: Proven and Probable Mineral Reserves of 56.8 million tonnes at an average grade of 2.10 g/t or 3.8 million ounces of contained gold, as at December 31, 2020.
Potential for mine life extension: Measured and Indicated Mineral Resources of 133.1 million tonnes at an average grade of 1.68 g/t or 7.2 million ounces of contained gold. Inferred Mineral Resources of 73.7 million tonnes at an average grade of 1.30 g/t or 3.1 million ounces of contained gold. Mineral Resources are as at December 31, 20201.
Delivered strong annual gold production: Produced 326,908 ounces of gold in 2020 at mine site AISC of $752 per payable ounce of gold sold.
Çöpler operating outlook: In 4Q 2020, we released the results of the independently prepared Master Plan study of the Çöpler District (the "Çöpler District Master Plan 2020" or the "CDMP 2020"). The CDMP 2020 summarized SSR Mining's current development strategy for Çöpler and included analysis for two production scenarios:

a feasibility level Mineral Reserve case (the "Çöpler Reserve Case") which incorporates a supplemental flotation circuit; and
an alternative Preliminary Economic Assessment (the "Çöpler PEA") case which includes the development of the Çakmaktepe Extension (Ardich) gold deposit.
Mine-life extension through exploration: In addition to the gold in the known Mineral Reserves, we have been undertaking an in-pit exploration program to identify additional oxide ore. The in-pit exploration program has been successful, and we expect the program to continue to deliver additional oxide ore production. Additionally, exploration is ongoing with the goal of converting sulphide Mineral Resources to Mineral Reserves. SSR Mining is continuing drilling and technical study activities to further refine and improve on this near-mine opportunity and target a Mineral Reserve declaration in the first quarter of 2022 as part of an updated Çöpler District Development Plan Technical Report (the "Çöpler District Master Plan 2022" or the "CDMP 2022").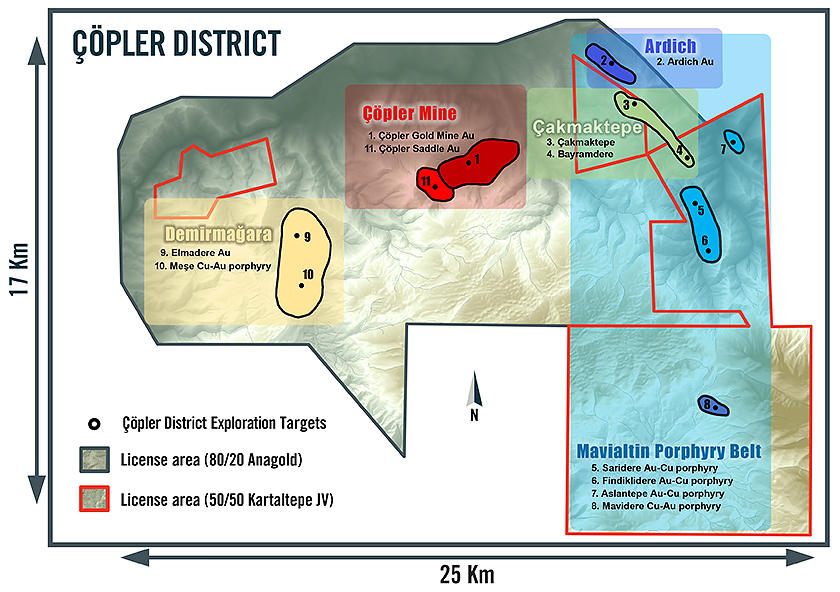 Çakmaktepe
The Çakmaktepe Mine (50% SSRM owned) is located approximately 5 km from the existing Çöpler Mine infrastructure and the Çakmaktepe ore can be processed through the existing Çöpler facilities. Mining operations commenced in September 2018 and production of Çakmaktepe phase one oxide ore was completed in 2019. As exploration advances and the geological understanding of the Çakmaktepe and Ardich deposits increases, it appears that there is probable structural connectivity between the areas, potentially creating an expanded "Greater Çakmaktepe" development pathway.
C2 Copper Gold
The C2 Copper Gold (C2) target consists of copper gold sulfide mineralization below and adjacent to existing resource pits at the Çöpler Mine (80% SSRM owned). After positive results from the SSR Mining's internal concept studies, the Board of Directors approved the advancement of C2 to PEA study phase. The study team for C2 are evaluating options to leverage value from the copper mineralization, and a PEA case is expected to be included in the Çöpler District Master Plan 2022 Technical Report.
---
Robert Clifford, SSR Mining's Director, Operations Mine Planning, is a qualified person and has reviewed the foregoing disclosure on Çöpler. Please refer to the technical report entitled "NI43-101 Technical Report on Çöpler, Erzincan Province, Turkey" dated with an effective date of June 9, 2016, a link to which is provided below.
1Mineral Resources are reported inclusive of Mineral Reserves. Please refer to our Mineral Reserves and Resources Table.
This page contains forward-looking statements. Please see the following link: Legal.
Videos