Marigold
Track Record of Growth and Performance
Marigold is located in Humboldt and Lander County, Nevada, United States on the Battle Mountain-Eureka trend. SSR Mining completed the acquisition of Marigold on April 4, 2014 and published technical reports in July 2018 and February 2022.
In production since 1989, Marigold is a large run-of-mine heap leach operation with several open pits, waste rock stockpiles, leach pads, a carbon absorption facility, and a carbon processing and gold refining facility. Currently the mine utilizes a fleet of 290-tonne haul trucks and three loading units. The gold doré bars produced at the mine are shipped to a third party refinery.
Highlights of Marigold include:
Mineral Reserves: Probable Mineral Reserves of 2.8 million ounces of gold at an average grade of 0.48 g/t and 0.3 million ounces of gold in leach pad inventory, as of December 31, 2022.
Potential for mine life extension:Indicated Mineral Resources of 1.6 million ounces of gold at an average grade of 0.43 g/t. Inferred Mineral Resources of 0.2 million ounces of gold at an average grade of 0.36 g/t. Mineral Resources are as of December 31, 2022.
Marigold operating The 2021 SK1300 Technical Report Summary life of mine plan for Marigold featured over 10 years of mining to 2032 and gold production through to 2038, including average annual production of 222,000 ounces of gold over the first 10 years.
Near-mine Exploration Ongoing: Expanded 2023 exploration program focusing on higher-grade oxides, resource expansion and reserve conversion at New Millennium, and defining a longer-term pathway to potential production at the Trenton Canyon and Buffalo Valley targets.
---
The scientific and technical information concerning our mineral projects on SSR Mining's website have been reviewed and approved by a "qualified person" under S-K 1300. For details on the "qualified persons" approving such information, a description of the key assumptions, parameters and methods used to estimate mineral reserves and mineral resources for SSR Mining Inc.'s material properties included on the SSR Mining website, as well as data verification procedures and a general discussion of the extent to which the estimates may be affected by any known environmental, permitting, legal, title, taxation, sociopolitical, marketing or other relevant factors, please review the Technical Report Summaries for each of the Company's material properties which are available at www.sec.gov..
This page contains forward-looking statements. Please see the following link: Legal.
1Mineral Resources are reported exclusive of Mineral Reserves. Please refer to our Mineral Reserves and Resources Table.
Videos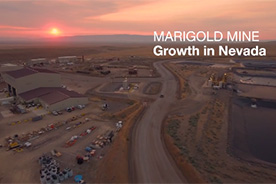 ---
Photo Gallery