Seabee
High Grade Underground Mine
Seabee is located in Northern Saskatchewan, Canada approximately 125 kilometers northeast of the town of La Ronge. The Santoy underground mine has been in continuous commercial production since 2014. Commercial production at the Seabee underground mine commenced in 1991 and exhausted Mineral Resources in 2018. All ore is processed at the Seabee mill facility, which has been in operation since 1991. The Seabee mill facility produces gold doré bars that are shipped to a third party refinery. Access to the mine site is by fixed wing aircraft to a 1,275-meter airstrip located on the property. Equipment and large supplies are transported to the site via a 60-kilometer winter ice road, which is typically in use from January through March.

SSR Mining acquired Seabee on May 31, 2016 as a result of our acquisition of Claude Resources Inc. On April 14, 2022, SSR Mining expanded its existing exploration platform at Seabee through the acquisition of Taiga Gold. The Company's properties in Saskatchewan now cover an area of approximately 131,150 hectares. SSR Mining's growth and development strategy has been to increase production by optimizing the milling and mining processes and exploring new mill feed sources.
Highlights of Seabee include:
Mineral Reserves: Proven and Probable Mineral Reserves of 476,000 ounces of gold at an average grade of 6.35 g/t as of December 31, 2022.
Potential for mine life extension: Measured and Indicated Mineral Resources of 319,000 ounces of gold at an average grade of 11.49 g/t. Inferred Mineral Resources of 536,000 ounces of gold at a grade of 6.05 g/t. Mineral Resources are as of December 31, 2022.
Delivered record full-year gold production: Produced 136,125 ounces of gold in 2022, a record in Seabee's more than 30-year operating life.
Seabee operating outlook: The 2021 SK1300 Technical Report Summary life of mine plan for Seabee featured over 6 years of mining to 2032 and gold production through 2028, including average annual production of 96,000 ounces of gold over the first 5 years.
Exploration potential: Seabee has successfully replaced gold reserves over the mine's 30 year operating life, and current exploration programs are designed to support Seabee's continuation into the next decade. The exploration team is currently focused on new reserve growth at the Gap Hangingwall, initial resource definition at the Santoy Hanging Wall and continued exploration drilling at the Joker target. In addition, SSR Mining continues exploration on its 100%-owned Fisher Properties, located immediately to the south of the Seabee claims.
---
The scientific and technical information concerning our mineral projects on SSR Mining's website have been reviewed and approved by a "qualified person" under S-K 1300. For details on the "qualified persons" approving such information, a description of the key assumptions, parameters and methods used to estimate mineral reserves and mineral resources for SSR Mining Inc.'s material properties included on the SSR Mining website, as well as data verification procedures and a general discussion of the extent to which the estimates may be affected by any known environmental, permitting, legal, title, taxation, sociopolitical, marketing or other relevant factors, please review the Technical Report Summaries for each of the Company's material properties which are available at www.sec.gov.
This page contains forward-looking statements. Please see the following link: Legal.
1Mineral Resources are reported exclusive of Mineral Reserves. Please refer to our Mineral Reserves and Resources Table.
Videos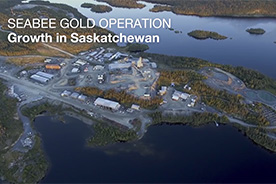 ---
Photo Gallery