Our Commitment
We take a long-term view of our responsibility, and this is reflected in the policies that guide our business decisions, and a corporate culture which fosters safe and ethical behavior across all levels of the company.Our goal is to ensure that our engagement with our stakeholders - including our workforce, industry
partners, and the communities where we operate — is mutually beneficial, transparent, and ongoing. SSR Mining's corporate responsibility program is driven by proactive initiatives and supported by monitoring systems that help us to evaluate and continually improve our engagement practices.
Safe for Life
We value above all else the safety and health of our employees, their families, and all those affected by our business activities. We acknowledge that there are risks associated with our business and, through proactive risk management, continuously minimize and control these risks.
SSR Mining's Safety Vision is "safe for life". Our safety program emphasizes balancing the human and technical aspects of safety: blending leadership behaviors with traditional management activities to create a safe productive culture. Positive reinforcement and open, honest communication builds trust. We ensure that our workers understand their individual contributions to safe production. In this positive environment they maintain safety awareness, recognizing hazards and analyzing risk in their daily activities. Each employee has established commitments related to their personal and work safety and health behaviors. Each employee is empowered to take the necessary actions to minimize risks.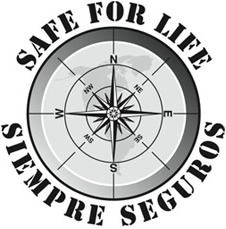 The technical aspects of safety are addressed by identifying critical tasks, establishing policies and procedures and providing appropriate training. Performance measurement and accountability provides feedback and maintains focus on continuous improvement.
Our ultimate goal is to achieve "safe for life" and deliver safe production every day.
Strategic Safety Leadership
Our management team establishes a culture of safety through education and motivation. The emphasis is on training and continuously rewarding positive behaviors – championing safety as a core value.
Awareness of Our Risks
Our risk management is proactive. Both dynamic as well as systematic, safety reporting is focused on current and leading indicators, not lagging indicators such as injuries. With this approach we can better anticipate and assess risks, and work to control them.
Focus on Our People
Our risk management system addresses how people perceive risk, so that our protocols and monitoring processes can be more effectively aligned to our activities. We strive to improve the competency of our people to identify, understand and manage risk.
Emphasis on Balance
We encourage our people to ask "What if….?" to ensure that risks are identified and discussed, and we empower them to take individual responsibility and accept accountability for safety every day. Safety is an integral part of our business activities.
PROTECTIVE DEVICES AND GUARDING
Make sure protective devices are in place and used. Never modify, bypass or remove a protective device.
DRIVING
Prepare by checking your mobile equipment. Everyone wears a seatbelt. Obey all signs and follow the rules of the road. Drive appropriately for conditions.
GROUND STABILITY
Scan continuously for signs of ground instability. Correct conditions or leave the area. Restrict access and report the situation.
ENERGY ISOLATION
Identify and control all sources of energy. Confirm energy isolation before working on equipment or systems.
WORKING AT HEIGHTS
Protect yourself and others against falls. Make sure fall protection equipment is in good condition and is in place. Wear fall protection where there is a danger of falling.
HAZARDOUS SUBSTANCES
Protect yourself and others against hazardous substances in the workplace. Only handle chemicals if you have been trained, understand the hazards and use appropriate controls.
LIFTING, RIGGING & HOISTING
Restrict access to the drop zone. Never position yourself under a suspended load.
PERMIT TO WORK
Obtain required permits prior to performing work.
FIT FOR WORK
Report to work physically and mentally prepared to perform work safely.
PERSONAL PROTECTIVE EQUIPMENT (PPE)
Select the appropriate PPE for the hazard present. Wear and care for required PPE.
Committed to delivering
safe production
Working with Communities
Pirquitas
Marigold
Pitarrilla
San Luis
Pirquitas
The Pirquitas mine proudly supports the educational system in the province of Jujuy through continuous collaboration with local schools. We have assisted with the renovation of six local educational facilities and with a number of information sessions and educational activities held for students throughout the region. We collaborated with the Ministry of Education to create a program allowing members of local communities to complete their secondary education, with 35 Pirquitas employees enrolled. Additionally, Pirquitas supports the promotion of social, cultural and sports activities in the region.
Our medical services and health campaigns continue to benefit the communities living in close proximity to the Pirquitas mine in the Jujuy Province, Argentina, providing higher health standards and practices in these remote areas. In 2013, we established full gynecology specialist services benefiting over 300 women in the area. Additionally, the Pirquitas health center initiated a general practitioner outreach program for all local towns, commenced a dental care program and held numerous illness prevention workshops. The health center also served over 150 children and young adults and completed an optometry and ophthalmologic campaign, providing eye glasses to 130 children from the local communities.
The medical center at our Pirquitas mine has been a safe harbor for many local residents in urgent need of health care. Zulema Flores, one proud mother who lives in the community of Nuevo Pirquitas, located 7 km from the Pirquitas mine, needed the urgent care of the mine's medical facilities for the birth of both of her children. Our medical personnel were glad to have the opportunity to assist Zulema during these important times for her family. Aymara was born in November 2010 and her sister Celina joined her in May 2012. Both girls are healthy and the family continues to rely on the medical support at our mine. Zulema shares, "I was very well attended and after both births I was transferred in a corporate ambulance to the hospital in Abra Pampa for additional examination. Thank you for the help we receive every time we see one of the doctors at Pirquitas."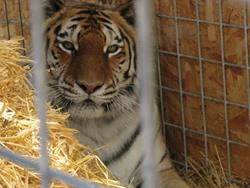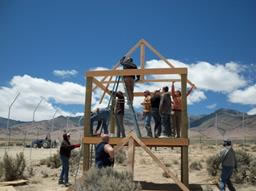 Marigold
Several of Marigold's employees are key participants in local development efforts. During the past two years, Marigold has contributed over $500,000 to local communities and continues supporting local high schools and the University of Nevada, Reno. Mine employees and family members regularly volunteer their time in community projects, fundraising events and sustainable development efforts.
Marigold is actively involved in the local education system. Our employees work closely with the University of Nevada in Reno to create a graduate program in mining, in additional to providing internships for students and ongoing support to the university. Marigold also supports the two local high schools through scholarships, contribution of equipment and supplies, employee volunteer efforts and involvement with the athletic programs. Monetary contributions are also extended annually to two local mining foundations providing educational support.
The Marigold emergency response team actively supports the emergency preparedness and wellness in the local community in the form of planning for, responding to and preventing emergencies. Three of our employees are members of the local emergency planning committee and our team has participated in various activities including training drills and delivering flu vaccinations at health fairs. Over 800 flu shots were administered by Marigold employees in each of the last two health fairs.
As part of our commitment to the environment, Marigold has supported the Safe Haven Rescue Zoo in northern Nevada since 2012 and will continue this initiative through donations and volunteer work by our employees and their families. A Marigold employee has been a key supporter of the rescue facility and has recently been elected to its board of directors. All donated funds are dedicated to the care of wildlife, educational outreach programs and improvement of zoo facilities.
Pitarrilla
Through our ongoing community relations initiatives at our Pitarrilla project in Mexico we have assisted the communities through various projects including educational support, medical services, infrastructure development and a complete rehabilitation of a local church.
As part of the support we provide to the local education system we have renovated a local high school, serving over 600 students, and repaired the bathroom facilities at a second school. In 2013 we provided over 500 backpacks to students attending kindergarten through high school, assisting families with education costs. On April 30th, the Day of the Child, and on Christmas we delivered a total of 650 presents to local children, ensuring that families with the highest need enjoyed these precious holiday moments.
As part of our agreement with the community of the San Francisco de Asís, at Pitarrilla, we funded the reconstruction of the two bridges connecting the village to the main road. This project benefited 300 residents, ensuring a safe and efficient path to their school and work place. This is particularly important during the seasons of high water levels that can put residents at risk.
San Luis
At our San Luis project in Peru we continue to work closely with the local communities. Over the past few years we have engaged in and funded a number of projects aimed at developing the social and economic conditions and sustainably improving the lifestyle of these communities. In addition to providing medical care to residents, we have constructed water reservoirs, a water pipeline, and a school within the Cochabamba community. In 2013, we built 30 water tanks and installed a distribution system for potable water, benefiting 300 residents of low-income households who previously did not have access to clean water at their homes. Additionally, we provide support to local farmers and livestock breeders through irrigation system projects, vaccinations to reduce animal mortality rates, and donations of animals for breeding to provide sustainable source of nutrition.
Fulfilling our obligation to the Cochabamba community at the San Luis project, we employed 16 members of the village of Upacoto to construct an irrigation reservoir. This reservoir now provides a reliable source of clean water for agriculture to a community of 80 people. This project significantly improves the agricultural capacity of the community for sustainable production of potatoes, corn and beans. With the addition of the reservoir, the production output has doubled, providing not only food to the community but also products for sale, which improves both nutrition and economic conditions.
Environmental Stewardship
Pirquitas
Marigold
Pitarrilla
Duthie
Hazelton
Pirquitas
The Pirquitas mine is the largest historical producer of tin and silver in Argentina, although tin is no longer produced at the site. With a long legacy of mining at the site, the extraction practices of earlier periods often had adverse effects on the surrounding environment. Dredge mining for tin from the Río Pircas gravels to the east of the old town of Pirquitas took place from 1933 to 1949. Underground mining began in 1936 from the San Miguel shaft at Pirquitas and continued through 1989. The underground workings were closed in 1990 and subsequently flooded.
SSR Mining has removed abandoned buildings and equipment and is cleaning historic tailings from the river bed. We have partnered with members of the local communities in the ongoing assessment of the environmental impact of current operations at Pirquitas as part of our overall environmental management system. SSR Mining brings environmental stewardship and a long-term outlook of environmental preservation, two hallmarks of modern-era mining, to this region.
Marigold
Marigold is committed to sound environmental stewardship that integrates proven methods for protecting, reclaiming and enhancing the environment at every stage throughout the life of the mine. Marigold has been at the forefront of environmental stewardship throughout its history and will continue to develop innovative approaches to environmental management.
In 2006, Marigold became the first operating mine in the world certified as fully compliant with the International Cyanide Management Code. In 2009, it became the first operation in the world to attain recertification, and maintained that distinction again in 2012 with its second recertification.
In 2007, Marigold became one of the first mines in Nevada to install mercury pollution control devices on its thermal processes (retort, refinery furnace, process solution tanks and electrowinning cells). These control devices reduced Marigold's mercury air emissions significantly.
Pitarrilla
SSR Mining has completed several extensive environmental studies at our Pitarrilla project in Durango, Mexico. The work included flora and fauna, hydrologic, meteorological and cultural studies. The results of this work identified and mitigated environmental impacts associated with the project and contributed to the regional information database.
In particular, the studies we conducted defined the need to protect and preserve the local cacti populations. We worked together with the local government to develop an ongoing cactus relocation program through which we are relocating over 4000 individual plants located within the project boundaries.
Duthie
Part of SSR Mining's portfolio of properties is the historic Duthie mine, acquired in the 1970's. In the 1920's and 1950's, this small-scale, underground mine in northern British Columbia intermittently generated acid-rock drainage from unconfined tailings which covered a large area including immediately downstream from the original mine site. Through clean-up and safe containment of the tailings into a lined repository, SSR Mining has successfully reclaimed the area from the environmental impact caused by the historic operations. Vegetation has been successfully re-established as observed in the photo below.
The Duthie reclamation site is an important project for us as the reclamation principles at Duthie are building the foundation for ongoing reclamation activities throughout our portfolio. Since reclamation commenced at the site, it has progressed from an inactive mine to an award-winning example of our environmental stewardship. In 2003, we received a citation from a joint committee of the Mining Association of British Columbia and the B.C. Ministry of Energy and Mines for outstanding reclamation achievement.
Hazleton
SSR Mining owns, and historically operated, the Hazelton mine (formerly the SSR Mining mine), which is located approximately seven kilometers north of New Hazelton, British Columbia. The mine produced silver, lead and zinc concentrates for ten years in the 1950's and continued intermittent operations through the mid 1980's.
Working closely with the British Columbia Ministry of Energy and Mines, we developed a reclamation plan to improve water quality and the ecological footprint of the area associated with historic mining activities. After receiving the necessary permits, reclamation earth work began in 2011 and was completed in 2016. All activities were conducted by a local labour force and included the removal of oxidized tailings from the downstream environment and placement of these tailings within a lined repository to prevent further oxidation. The area was blanketed with soil and re-vegetated. It is now naturally growing into a state similar to its surroundings. Water quality monitoring is ongoing.
Reclamation efforts at the Hazelton mine are a testament to our commitment to leave a positive legacy in all jurisdictions where we operate, both past and present.