You can find silver in
Automotive industry
Chemical catalyst
Clothing
Coinage
Digital technology
Ink
Insulation & energy reduction
Jewelry & silverware
Pharmaceuticals
Photography
Reflective glass
Silver oxide batteries
Solar energy
Water treatment
X-rays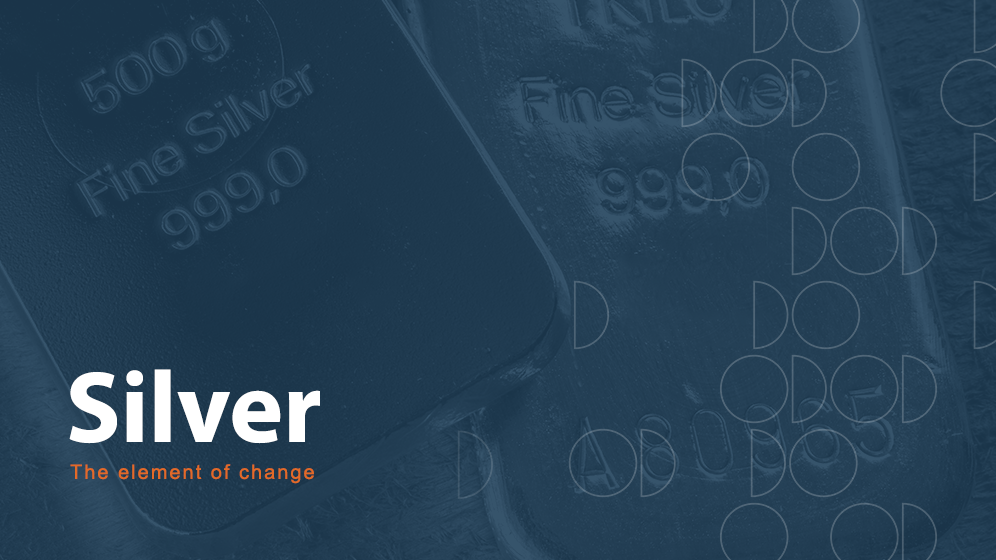 Supply & Demand
Supply (Moz)
2013
2014
2015
2016
2017
Mine Production
823.3
867.8
895.1
888.6
852.1
Net Government Sales
7.9
-
-
-
-
Scrap
191
165.4
141.1
139.7
138.1
Net Hedging Supply
-34.8
16.8
7.8
-18.9
1.4
Total Supply
987.8
1,050.00
1,044.00
1,009.40
991.6
Demand (Moz)
Jewelry
220.6
226.4
226.7
205
209.1
Coins & Bars
241.1
234.1
292.1
207.8
151.1
Silverware
59.3
61.2
63.2
52.4
58.4

(+)

Industrial Fabrication
604.6
596.3
583.2
576.8
599
Of which Electrical & Electronics
266
263.9
246
233.9
242.9
Of which Brazing Alloys & Solders
63.7
66.7
61.5
55.3
57.5
Of which Photography
50.5
48.5
46.6
45.2
44
Of which Photovoltaic
55.9
51.8
59.2
79.3
94.1
Of which Ethylene Oxide
7.7
5
10.2
10.2
6.9
Of which Other Industrial
160.8
160.6
159.8
152.9
153.7
Physical Demand
1,125.80
1,118.30
1,156.30
1,041.90
1017.6
Physical Surplus/Deficit
-138.2
-68
-121.3
-32.5
-26
ETF Inventory Build
2.5
1.4
-17.8
49.8
2.4
Exchange Inventory Build
8.8
-5.3
12.6
79.8
6.8
Net balance
-149.5
-64
-116.1
-162.1
-35.2
Silver Demand
(Moz)
Physical silver demand declined 2% to 1,017.6 Moz, impacted mainly by a drop in coin and bar demand.
---
Jewelry fabrication returned to growth in 2017, rising 2% to 209.1 Moz.
---
Coins & medals fabrication declined 35% in 2017 to 79.4 Moz, the lowest since 2008.
---
Global silverware increased 12% in 2017 to 58.4 Moz due to a strong recovery in Indian demand.
2017 Silver Demand
(Moz)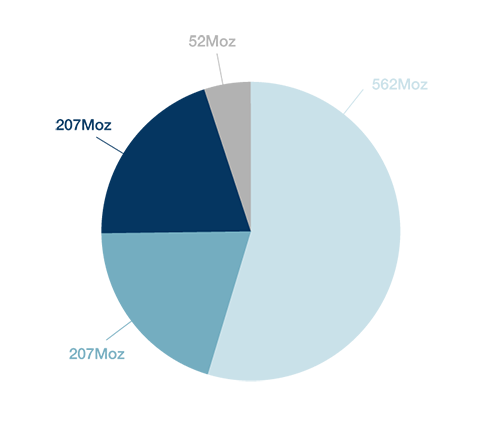 Industrial Fabrication Applications (562 Moz)
Silver is the pre-eminent electrical and thermal conductor of all metals, which makes it essential in many electrical applications.
Jewelry (207 Moz)
Pure silver does not tarnish easily but to make it durable for jewelry it is often alloyed with small amounts of copper. It is also widely used with base metals in gold alloys.
Coins and Bars (207 Moz)
Historically, silver was more widely used in coinage than gold, being in greater supply and of less value, thus being practical for everyday payments.
Silverware (52 Moz)
Sterling silver has been the standard of silverware since the 14th century, particularly in the manufacture of "hollow-ware" and "flatware".
1.0 Billion
Ounces Total Demand
Largely
Supported by
852

Moz
Total Mine Production
Mine Supply by Region
(Moz)

A large portion of the total silver supply is a result of mine production. Mine supply totaled 852 Moz in 2017, largely in line with the prior year.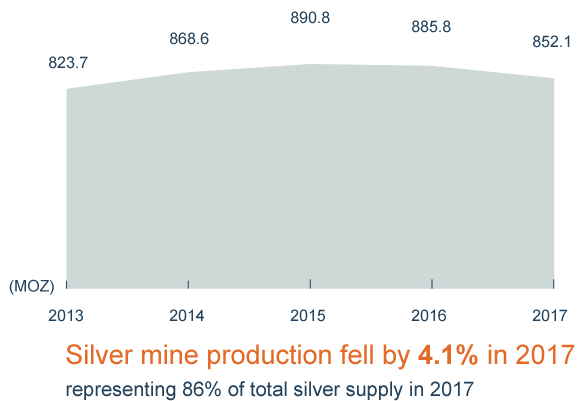 Investment
As a precious metal, silver has become an investment of choice for those who recognize its traditional role as a safe haven asset.

Coins and medals – Total coin and medals fabrication amounted 123.2 Moz in 2016, the second highest level this century, with demand up year-on-year in the first half of 2016.
---

Physical bar investment – After reaching a record 155.2 Moz in 2015, global physical bar investment fell 46% in 2016, mainly due to lower demand from India and retail investors taking profits at higher silver prices.
---

Silver exchange traded products (ETPs) – ETPs increased 8%, or 47.0 Moz, bringing total holdings of ETPs to 664.8 Moz. ETPs peaked in late October 2016 at 688.6, reaching an all-time high.
---
Identifiable Investment, which includes physical bar investment, coins and medals and changes to ETP holdings, retreated 7%, to 253.8 Moz, from the impressive level achieved in 2015. This level of investment was still 23% higher than the average over the decade preceding 2015.
---
Source: The Silver Institute World Silver Survey 2017